On March 8 Eyes on Animals dropped by a pig collection center in Lunteren (NL) to further distribute our manual on humane euthanasia of unfit animals. On the premises there was a trailer with sows on board. We heard a lot of screaming from inside the truck. We knocked on the office door and rang the doorbell at the house on the property but no one answered. Concerned about the screams, we decided to look inside the trailer.
What we observed was horrendous. Inside the trailer we saw several sows with big wounds and deep fighting scratches. One sow had a large open wound (approximately 30x20cm) on her back. One other sow had a large old wound on her back quarter that had not healed properly. The other sows stepped on her, causing her to scream out in pain.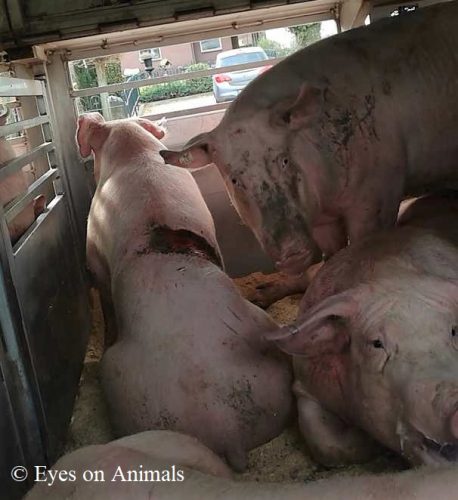 We only had time to observe the sows in one of the compartments, as the owner arrived soon after and was furious. He did not want to talk to us about the sows and chased us away from his property, yelling at us to leave immediately. Later on we called him, but he was not willing to give an explanation. We also called the owner of the trailer. He said that he rented out the trailer, so was not responsible for the sows inside. To whom he hired it to, he refused to say.
Due to the severity of our findings and the aggressive reaction of the owner we decided to alert the NVWA, the official inspection authorities in the Netherlands. They forwarded our complaint on to a local inspector. We asked the NVWA to visit both the collecting center, and the farm where the sows had come from and give us feedback on their actions. We will follow up on this.