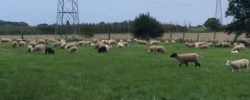 On the 23nd of August, 2017, a team in the UK inspected four sheep trucks at the port of Calais (FR). All sheep were loaded in Carlisle, (UK) and arrived by the Joline Ro-Ro Barge, which is owned by the Dutch company, Onderwater Agneaux B.V.. We decided to trail the truck, owned by the Dutch company, Poorterman, to its final destination. The final destination was a small field in Schelle, near Antwerp (BE), some 19 hours after the sheep were loaded in the UK. The sheep were intended for ritual slaughter during the Muslim Festival, 'Eid in sha Allah' in Belgium, held at the beginning of September.
During the unloading we observed several sheep were lame. Others laid down as soon as they reached the field, and remained lying. We contacted the Belgium Ministry to report our findings and concerns. A few days later the Belgium authorities conducted an official inspection at the facility were the sheep were being held, they too observed several lame sheep that should have not been approved for transportation. The Belgian authorities demanded the keeper of the lame sheep to provide veterinary care before they were transported to the slaughter facility in Antwerp. The authorities also inspected the slaughterhouse and several infringements were observed and a process verbal was drawn up.
Thank you to the team at the Belgian Authorities, we are aware that the festival period is a very busy time for them so, we appreciate them listening and acting on the evidence we provided.