It is not possible to put an end to the transport of farm animals in today's world, but what has been possible is to work with several of the more competent livestock transport companies to make conditions for the animals on board at least much better.
During a training course that Eyes on Animals gave to Hunland in Hungary in early 2016, we explained how the faulty design of the accessories inside livestock trucks often caused stress and suffering. We made it clear that the design needs to be adjusted and stressed that it was crucial that transport companies only buy trucks from manufacturers willing to make these changes. Hunland took this info to Pezzaioli, a major manufacturer of livestock vehicles based in Italy, and offered to buy some of their trucks should they make these important adjustments. Eyes on Animals had also met Pezzaioli in September 2015 to encourage them to modify the design of their water troughs on in their trucks and partitions. Please see an article about some improvements they made: https://www.eyesonanimals.com/improvement-pezzaioli-water-troughs/
Hunland Livestock Transport has now worked with Pezzaioli on improving designs and this month purchased several livestock trucks that now have the following:
1. No more gap between inner wall and decks
Many livestock trucks still have an open gap between the inner wall and hydraulic decks, causing smaller animals to get their legs caught. We have seen horrific injuries in the past.
In the new Hunland/Pezzaioli truck you can see that this gap is now minimal and there is a lip around the deck, so that animals cannot place their legs along the ridge or get them stuck.
Photos: Minimal gap and lip around the deck in Hunland truck made by Pezzaioli
2. Grids to prevent injuries
Often we see leg injuries because animals get stuck in the ventilation vents. This often happens when the floors are raised. The animal suffers this pain, which is exacerbated by each movement of the truck, sometimes for hours. See the photo below.
In the new Hunland/Pezzaioli truck you can see that there are grids placed in front of the ventilation vents to prevent animals getting their limbs caught.
3. Access doors to inspect and assist animals in each compartment
Access-doors are vital for the driver to do a good job at cleaning the water troughs out so the animals can still drink and in order to provide feed and water buckets to the animals inside or assist sick or injured animals if needed.
The new Hunland/Pezzaioli trucks therefore have doors to every different compartment of the truck so that the driver can easily visually inspect the animals and reach in to provide water or clean the troughs. The trucks also have a door in the roof.
4. Greater number of automatic water bowls per compartment to be sure all animals can reach the water
The new Hunland/Pezzaioli trucks are equipped with extra bowls for adult cattle that can be attached to the dividers and walls of the truck so that animals no longer need to fight their way to get to the back corners to reach the troughs which are normally only found there. This is a problem we see in practice quite often, with only the dominant animals accessing the water, and the submissive ones are not let through and becoming stressed, dehydrated and weak.
With additional water bowls strategically placed throughout each compartment, all animals will be able to drink from the automatic bowls and stress from fighting and dehydration will be greatly reduced. Hunland has even had them placed along the dividers, as see in the photo.
In the new trucks there are also permanent troughs for the weaned calves along the dividers. See photo below. We do appreciate that extra troughs have been installed, but are of the opinion they are too small and not deep enough for weaned calves. Weaned calves – as all cattle – need big troughs where the mouth easily fits in and deep enough for water to be collected. The shape therefore has to be round and deep instead of small and shallow. We will stay in contact with Hunland about how these troughs can be improved.
4. Adjustable partitions to avoid gaps
Most partitions are short in order for them to fit on trucks when they are set with 3 decks. But it means that when only two decks are set, for larger animals like adult cattle, there is a large open gap underneath the partitions where animals can get stuck. We have seen numerous cows and bulls become stuck in these gaps, resulting in some being trampled and also not being able to get up to reach water or feed (see photo below).
In Hunland's new trucks from Pezzaioli the partitions can be adjusted now so that they are almost solid down to the ground. The gap is now 12cm without bedding, so with bedding small enough to not cause significant risks for animal welfare. This is a significant improvement that we are very pleased with.
5. Sides of loading ramp extra high
The loading ramp of the new Hunland/Pezzaioli has extra-high lateral protection to prevent animals from jumping over and injuring themselves. With extra-high side-walls animals will also walk more calmly as it prevents animals from being visually distracted or scared by people or strange objects moving around the truck.
5. Smaller wheels so there is more loading- and headspace
In the previous trucks from Hunland the wheel-axels took so much space that animals had to stand in between them and had difficulty turning around. See photo below. The wheel-axels also reduced the air flow inside that part of the truck, which was a problem during transport in hot weather conditions and long-journeys.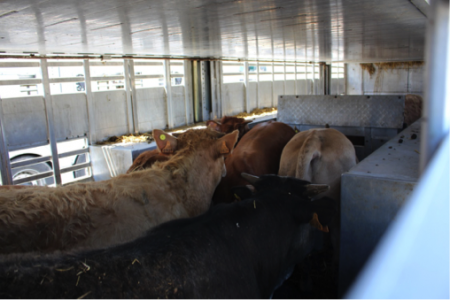 In the new Hunland/Pezzaioli trucks the wheels are made smaller – so the axels are much smaller too and as a consequence, head space is increased. Still the axels protrude a bit above the deck which can cause animals to stumble, lose balance or injure themselves. Additionally the animals do not like to lay down on it. In our opinion wheel axels must not be count as "surface load area" if it sticks up higher than the rest of the floor.