We were disappointed to observe three transport companies load cattle from an assembly center onto double-deckers that did not provide enough head-space for the animals. In particular we were disappointed that one of the companies belongs to a quality system that we have faith in.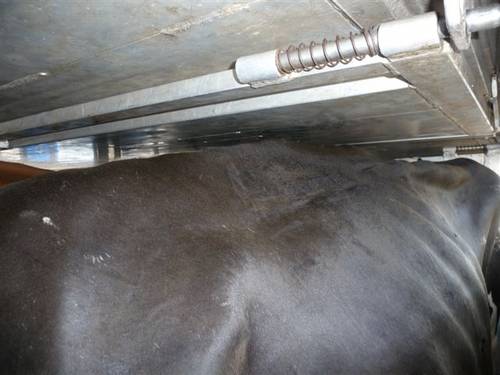 We observed cattle on board Hans Snel, Hoekstra en Zon and J.A.Haan transport trucks where they only had a few centimetres of space between their backs and the ceiling. Unfortunately this problem bypassed the official veterinarian approving export, who permitted all three to leave as such. As well, one cow was crippled and was not putting much pressure on her front left leg. We drew the attention of her to the official veterinarian who considered her fit enough for transport because she could walk on all four legs. We disagree, because in the 1/2005 legislation it states that animals must be able to walk unassisted and without pain. As well, animals that fall injured during transport must be separated, but this crippled cow was loaded together with many others.
We will send a complaint about this to the authorities at the Ministry of Agriculture. We insist that transporters with double-deckers only select small cattle or only load onto one floor. Other companies here today loaded cattle only on one deck, but all animals must receive this basic protection offered by the national and EU legislation. And it is the official veterinarians' duty to enforce this thoroughly, if not what is the point of the legislation?
Only a couple of centimetres of space between the backs of the cattle and the ceiling.

Animals can wound their backs when transported like this.