Today the team gave a 1-hour lecture to approximately 100 veterinarian students and professors about our inspections of animal transports and slaughterhouses in Turkey. Aside from showing the problems, we also showed positive examples of welfare so they could see what kind of difference they could make.
We would like to thank Dr. Tahsin Yesildere from the Faculty of Veterinarian Medicine for inviting us and wish all the motivated and passionate students we met today much success. We were thrilled during the Question and Answer period to see how interested and concerned they were about animal-welfare.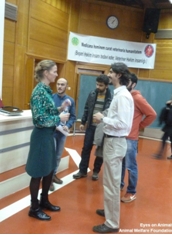 There is hope for animals in Turkey with this new generation of veterinarians! We left with them the book on Humane Handling Design by Dr. Temple Grandin so they could read more.